Sean is a NPC (Non-player character) of Fantage.
Basic Info
Sean can be found at Top Models Inc. He likes to show off with his long blonde hair and black glasses on the stairs with a fan.
Event Locations
Sometimes, he can be found outside his "second home" during events. At the Fashion Week of 2012 he was found at Downtown/Uptown judging your style. If your fashion is perfect, he will give a exclusive dress and hairclip that Non-members can use.
At Halloween of 2012, he judges your Halloween costume this time. If your costume is spooky enough, he would give you a Animated Skull Shirt, Animated Cat Shirt, Wrapped Head, and a pair of Demon Wings. Each of these are also used by Non-Members. Each are an essential set for any Horror Movie. He comes back again when the Ice Rink appears at the Beach at December 2012. (He's still there.) Once again, he judges your fashion, but this time if you want to get White/Brown Whipped Hair, Purple/Pink Coat, Purple/Pink Boots, and Blue/Brown Doggy Sleds, you are going to impress him with the Limited Costumes available right next to him. Wear a Limited Costume and skate to the part of the Ice Rink where it says Start. The judges will judge you and then Sean will give you a prize. (You know if you got a prize if the word PRIZE appears above your head right after you land from skating.)
2013
As of November 2013, they have revamped his design along with the update of the Fashion Show game. He now wears fashion sunglasses and a pink-white outfit.
2014
Sean's look has changed and so has Top Models. His hair is cut short, thus he no longer has long hair. He wears fancy clothing and a suit instead of the old outfit and a scarf with glasses. During the start of a Fashion Show, he will say "Welcome to Top Models Incorporated Fashion Show!" Also, if you want to host/enter a fashion show you can click him. He is located at the mid-bottom right hand side.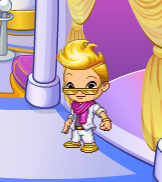 Community content is available under
CC-BY-SA
unless otherwise noted.