Blizzy made his first appearance at the Chrismas 2011 Event. He also appeared in Snowman Showdown as the judge.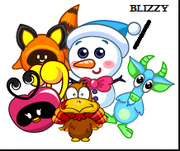 Role
During the 2011 event he helped Michelle save Christmas, as that was his job given by Santa Claus. One game in the event is if you put Blizzy in the cooler, you get bonus points for every time you see him in the levels.
Now he is a Holiday Pet.
Trivia
Blizzy resembles a living snowman.
Blizzy now lives with Michelle in his cooler.
Blizzy gives a triple pet bonus in Fashion Shows for the themes Snowy and White.